How would you like to gain more customers and increase your revenue?
There's a simple and easy way where you can to do just that – by making full use of AgentPro's powerful estate agent newsletter function.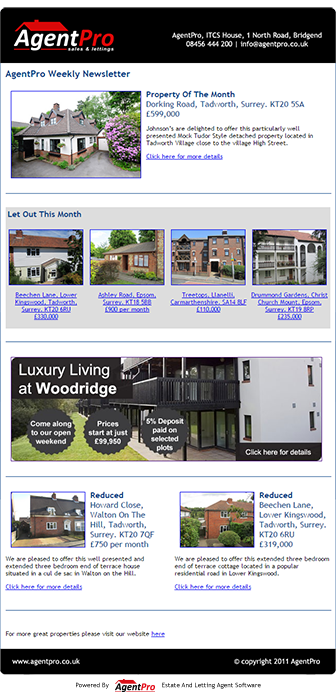 Easy to use and simple to send
Sending out newsletters can often be a complicated process. We've designed our newsletter function with simplicity and ease of use in mind. You are able to:
Add your own sections
Edit the layout so it looks exactly how you want it to look – you aren't restricted to a particular layout
Automated tweets
Fill the newsletter with original content which you have written, so you can say exactly what you want to say and how you want to say it
Make the newsletter as big as you like. You aren't limited to a set amount of properties, instead you can promote as many as you like
Send the newsletter out to thousands in one simple click
The newsletter may be general, promoting a brand new service you offer, or it could be an upsell to newly acquired customers. You can choose exactly who the newsletter goes out to and therefore make it as targeted as you like. And the more targeted the campaign, the more likely you are to see a healthy ROI and increase in conversion rates.
Ultimately, it makes your marketing much more efficient and profitable.
Make sure your mailings are fully approved
And if you, like us, want to make sure that all of your mailings are fully proofed before they are sent out, then you can take full advantage of the control function. This only allows the newsletter to be sent out after it has been fully approved by the appropriate person. You can decide precisely who has responsibility for signing off the newsletter, so if you are a busy director and your time is very limited, you can delegate responsibility.
Your very own branded estate agent newsletter
Not only is the newsletter completely customisable, it also comes fully branded with your logo, company slogan, address and telephone number, and even your social media channels.
Direct links to your agency's website are also included in your newsletter. Not only can this improve your website traffic, but also lead to increased conversion rates and newly acquired customers.
Just think – those you target with your newsletters will be the customers most likely to be interested in your services, so if they have the option to visit your website they can find out everything you have to offer and decide to pick up the phone or send you an email as a result.
Unlimited mailings
Another great thing about the newsletter function is that you're not limited to how many newsletters you send out.
Every time you have a special offer to promote, a brand new line of properties to sell or simply something interesting say to your customers you can send out a newsletter promoting it.
Some software companies put a limit on the number of email marketing campaigns you are allowed to send out each month and then charge extra for any additional campaigns. Our newsletter function allows you to send out as many as you like at no additional cost.
Arrange your free, no-obligation demo
If you'd like to find out more about our estate agent newsletters or have a free demo get in touch with our team on 08456 444 446 or email info@agentpro.co.uk